Liturgy & Worship Schedule
MASSES
Saturday Vigil: 5:15 PM
Sundays: 8:00 AM, 10:00 AM and 12:00 (Noon)
Weekdays: 8:00 AM (Monday-Friday) Saturdays: 9:00 AM
Holy Days: Vigil-5:15 PM, 9:00 AM and 7:30 PM (schedule changes for New Year's Day and Ash Wednesday)
WORSHIP
Divine Mercy Chaplet
Prayed in the Adoration Chapel everyday at 3PM weather permitting.
Rosary
Mondays–6:30 PM-Adoration Chapel; Saturdays-8:00 AM-Church
St. John Paul II Adoration Chapel
Located in the Convent, the Chapel is open 24 hours a day.  The Adoration Chapel is closed from Saturday night midnight until 2PM Sunday afternoon during the Paschal Triduum during Holy Week, and follows a special schedule for some holidays (New Years, Easter, Memorial Day, 4th of July, Labor Day, Thanksgiving, and Christmas).  Weather conditions may close the Chapel as well.  Updates on closures and reopening or the Chapel can be found on the St Agnes Facebook page.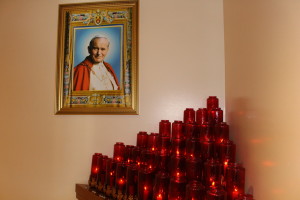 Sacrament Of Reconciliation (Confession)
Saturdays: 8:30-8:50 AM / 4:00-4:45 PM  NOTE: Schedules differ around Christmas and Easter
Sacrament Of The Sick/Homebound
We urge parishioners who are seriously ill or facing surgery to receive the Sacrament of the Anointing of the Sick prior to admission to the hospital.  They can arrange this by calling the office.
Ministers Of Communion can bring Holy Communion to those confined to their home. Call the Parish Office to make arrangements.